Guaranteed against genetic diseases
Our parent dogs are all FULLY TESTED (including hips, elbows, cardiac, eyes, patella and thyroid) prior to breeding, and the dogs' OFA results are searchable on the OFA database. All of our puppies are guaranteed against genetically inherited diseases because we also DNA test our parents! We provide a lifetime guarantee for the following genetic conditions: Degenerative Myleopathy, Neonatal Encelopathy with Seizures, Progressive Retinal Atrophy type 1 and 2, Progressive Rod/Cone degeneration, GM2 Gangliocidosis, Osteochondrodysplasia, and Von Willebrand disease. Our puppies are also stimulated from birth using Puppy Culture and ENS protocols. That means you're getting a healthy and well socialized puppy with a great temperament. As a result, MANY of our dogs become service or therapy dogs. Check out our Resources page to learn the difference between service, therapy, and emotional support dogs.
Read our full health guarantee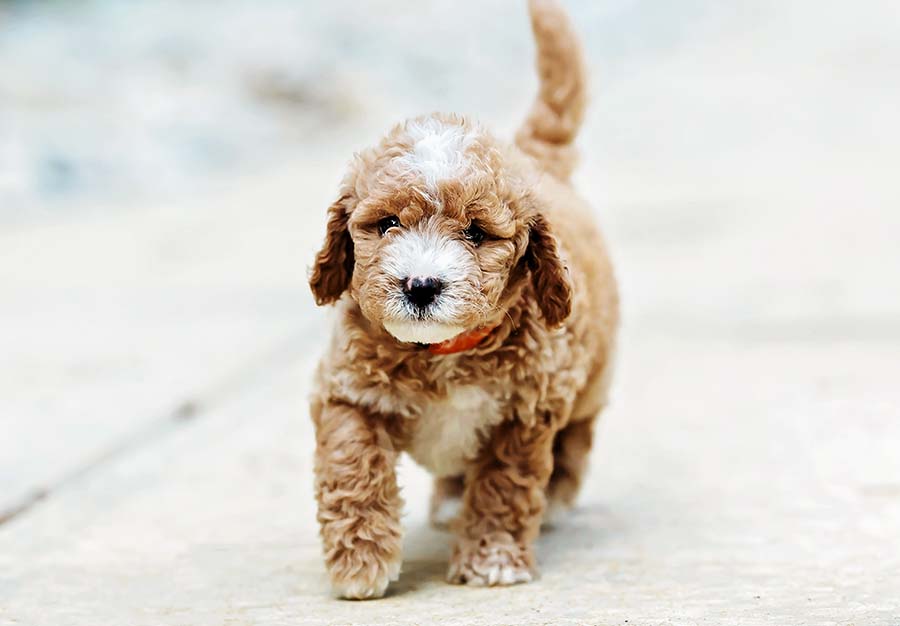 We crate-train our Goldendoodle and Bernedoodle puppies
We individually crate-train and doggy door train all of our puppies. Our puppies go home well on their way to being housebroken! We do not potty pad or litter box train, as we believe that is a step in the wrong direction! We also offer puppy kindergarten (Three lessons per day, Puppy will learn Sit, Down, Leave it, Wait, Come and Leash Walking). Limited availability, call for more info and pricing.
From our family to yours
Sandy started raising puppies for Upstate Guide Dogs (for the visually impaired) in the 90's. Our family raises all of our goldendoodle and labradoodle puppies using service dog protocols. We use ENS and Puppy Culture, that includes crate-training and beginning housebreaking. As a result, many of our puppies over the years have become service dogs, therapy dogs, and emotional support dogs.
Read hundreds of reviews on Google and Facebook
Sandy Peters and her family are a truly unique and amazing experience...
We have had a fabulous experience choosing a puppy from Sandy. We were looking for a family dog but also, as a physical therapist, I really wanted a dog with a therapy dog temperament. We also needed to be able to test for low/no shedding and we were able to meet those needs perfectly with Sandy's help. She does an outstanding job breeding and nurturing these puppies!! The early neurological stimulation and service dog protocols make a huge difference for these pups. Her attention to detail and her patience with me were above and beyond.
An amazing experience from start to finish...
Working with Sandy and her family has been an amazing experience from start to finish. She is so responsive, knowledgeable and accessible. We got to be a part of the entire process and felt we really knew our pup before we even met her. I learned so many tips watching the live stream videos, was provided a puppy schedule and product recommendations, and any questions I had were quickly answered. I know for a fact very few breeders are as thorough and experienced as Sandy. Peters' Puppies is the only breeder I would ever recommend and I do so confidently and enthusiastically.
I literally cannot find accurate words to describe how amazing Sandy...
I literally cannot find accurate words to describe how amazing Sandy, her family, and her puppies are. We brought our beautiful Scarlett home today and she is relaxed, has eaten, toileted and slept like a champ. Sandy breeds these puppies with integrity, decades of (obvious) experience, kindness and a true love for what she does. There were 25 puppies to choose from and it was hard to choose because all of them had amazing personalities and temperaments. The fact that Scarlett came home crate trained was an unbelievable bonus for us (and hard to find with breeders!). If you are considering purchasing a Goldendoodle and are concerned about finding a top of the line breeder, your search is over. Put your deposit down today!
Featured photos