Meet the Peters Family
Sandy (and her four biological children) began as puppy raisers for Upstate Guide Dogs (Labradors) in 1996. After being widowed (with four children) in 2002, Sandy remarried David, and the family began breeding Golden Retrievers, hosting foreign exchange students (15 from various countries), and fostering special needs children (37 foster children over the years). Sandy and David adopted four more children (school-aged) from Chinese orphanages (special needs adoptions).  Ben (adopted at age almost 7) has allergies and asthma, and the Peters learned that doodles are the best all-around family dogs for allergy sufferers. As a result, the Peters family began breeding doodles. The Peters decided to focus their efforts on breeding and training service-quality puppies for families who, like the Peters Family, also have specific needs. All of the Peters dogs live inside the home (or in Guardian homes) as pets and service dogs, first and foremost. The Peters dogs are FAMILY MEMBERS! Sandy does not have another job outside the home and sometimes breed dogs as a "hobby," nor do they have a kennel. The dogs and puppies receive 100 percent of the family's attention and it is what they do 24/7.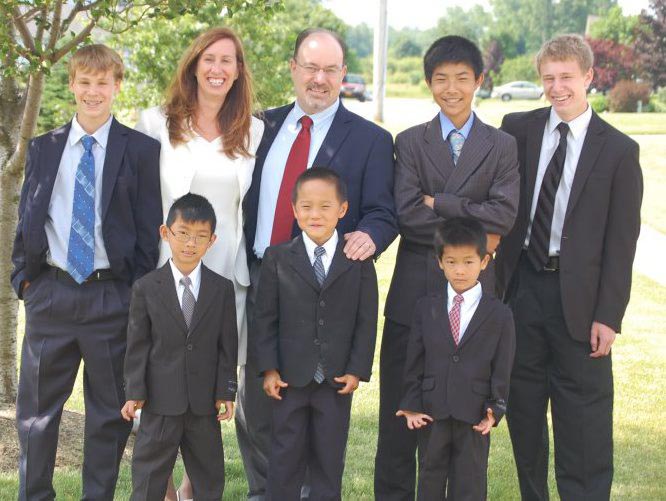 Our puppies are an integral part of homeschooling
We believe that learning occurs best while participating in real life activities. Our children deliver our puppies and care for them right in their bedrooms. Words such as gestation, lactation, Oxytocin, and amniotic sack are part of our regular homeschool vocabulary. We weigh our puppies daily, plot their growth in grams and ounces, and take our mommies' temperature daily. Our dogs and puppies are simply the number one priority in our daily lives! We provide our dogs with the very best care, driving over two hours to see a Reproductive Vet, and we are happy to provide families with several veterinary references!
Many of our pups have become service dogs
Our puppies are stimulated from birth using ENS and Service Dog protocols
Sandy was trained in 1996 by Upstate Guide Dogs (NY) who adopted the methods outlined by the Monks of New Skete NY. Our puppies are exposed to literally hundreds of stimuli from birth in order to desensitize them and prepare them for life as a service dog. The puppies are doggie door trained, trained to climb stairs and ramps, and balance on a wobble board and teeter-totter. All the puppies go home sleeping through the night, 11-6am, in their individual crates. Most of our puppies are 90 percent housebroken by age 8 weeks old. If you are looking for a Service dog prospect, it is IMPERATIVE that you reserve your puppy early, so that your trainer has first pick of the litter. Service dog candidates will be chosen by a professional trainer at age seven weeks old after conducting the Volhard Temperament Test. We do have a trainer available to choose for you (she does charge a fee) if you need a local trainer to do the assessment for you.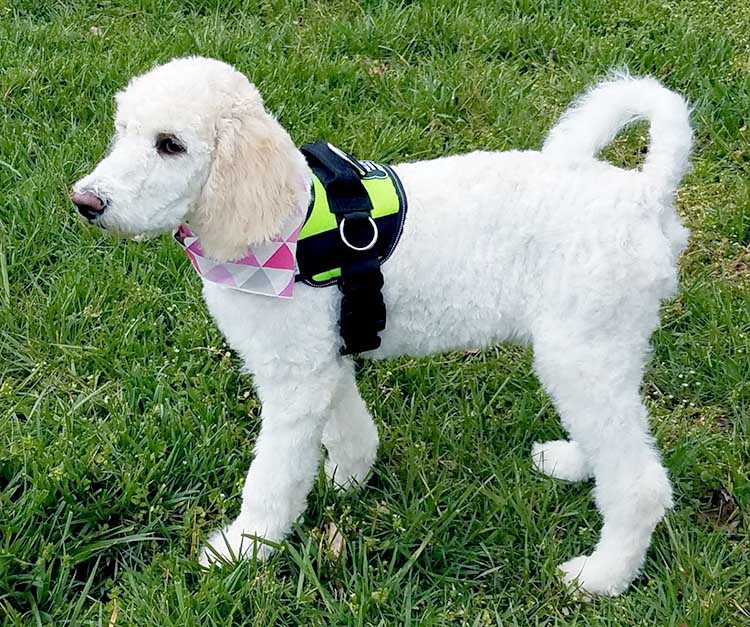 Crate-trained from a very early age
We crate train all of our puppies, starting when they're just 5 weeks old. Many breeders SAY that they crate-train, but putting the puppies together in ONE crate is NOT the same as crate-training them individually. This is why our puppies sleep through the night, from 11p-6am, from the day they go to their homes. When our puppies awaken from their naps in their crates, we TAKE THEM OUTSIDE to toilet. Our puppies consistently use a doggie-door and go to the toilet outside by age six weeks old. READ OUR REVIEWS on our Facebook page and Google!
Meet Sandy
Sandy began raising puppies for Upstate Guide dogs in the mid-90s, and she continues to be passionate about her program. A mother of eight children (four biological children, four adopted from China), and foster mother to dozens of foster children and exchange students, taking care of little ones is what Sandy does best. She doesn't sleep much, her puppies are too important! Just like with her children, Sandy's puppies are given absolutely every advantage possible from birth. In her younger days, Sandy was a college professor, a marathon runner and competitive power-lifter!